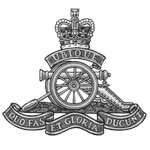 Chapter 7
15 Independent Observation Battery Royal Artillery, Lo Wu, New Territories
February 28 through May 23 1950
15 Independent Observation Battery RA is Formed
Returning to my story, on the Devonshire we heard the unit was to be stationed in the New Territories under canvas but little else. After our run ashore and one more night on ship we disembarked to begin our service in Hong Kong.
While my memory of arriving at Hong Kong was clear, I originally had no recollection of exactly how we moved from the dock to our new home at Lo Wu. In describing our trip I relied on others' memories for my description of first mustering at nearby Whitfield Barracks and the formation of 15th Independent Observation Battery RA 1 However, a member of 173 Locating Battery who found this memoir, arrived on the Devonshire with me, and served with us at Lo Wu informs that we went directly to Lo Wu via rail then trucks. The formation of the Battery must then have been aboard the Devonshire, and it served one more night as our home.
Our battery was made up of the following troops: A, Observation, into which I went, along with the majority of 98 squad, C, Sound Ranging and X, Survey. Each troop was made up of about 40 personnel, surveyors, signalers and drivers. There was also an HQ troop. With officers and NCOs we probably numbered about 180. We were commanded by a Major JS Dacre.
Lo Wu Camp By Rail and Truck
Next day we marched the short distance from the Devonshire to the railway station in Kowloon, near the great Peninsula Hotel and waterfront.  I enjoyed the railway station due to my life long love of all things railway.  Many aspects of the station looked familiar as it should because the British had built and run it, as they had most others in China. The Kowloon Canton Railway (KCR) on which we were to travel originally ran to Canton, but the communists severed the line at the border, Lo Wu, our last stop.
Receiving the correction described above about how we got to Lo Wu, prompted a review of my records of that time. Finding a picture of members of 98 Squad at Fanling railway station was a pleasant surprise. Rather than insert it here, I created a blog entry about as this seems a good way to illustrate the interactive nature of these web based memoirs, and focus on an item of interest me, the railway station.
Our train was special, made up of American style carriages and pulled by a steam engine of a type familiar to me that was built in Britain. Heading north it took us under Lion Rock in a tunnel past the mountain Tai Mo Shan (3,144 ft) and through the countryside providing our first sights of paddy fields with Chinese peasants working in them. The trip continued alongside water in various bays and the expanse of Tolo harbor, past the small town of Tai Po and in the distance the mountains of mainland China and then to Fanling. A very neat little station in what appeared a well ordered community.
Here with our kit bags and gear we mustered and got onto lorries or trucks that left the made roads and took us along rough tracks further north and toward the frontier. At the end of one track were several corrugated iron Nissen huts and a series of tents arranged among terraced paddy fields, Lo Wu Camp. About a mile away was the border with China.
We were later to find this Battery had a long history with its forerunner founded in 1757 as Smiths Company, initially serving in Newfoundland. ↩