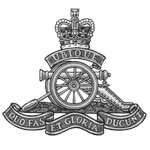 Chapter 12
The Royal Artillery Depot Woolwich
June 1951.
Vague Memories of My Return to Woolwich
Writing about my return to the Royal Artillery Depot Woolwich is difficult as I have no distinct memories, and nothing to jog my memory. But after some thought I can perhaps provide an account of what occurred.
We arrived at the Depot sometime in the afternoon of June 7. How we got from Woolwich railway station I can't recall, but we probably traveled in a lorry sent by the Depot. No doubt some RA Depot personnel were at the station to see to matters like that for artillery troops were constantly coming and going. We had with us the kit that we took aboard the Dunera, our FSMO, and maybe our kit bags but not our 'R' painted suitcases. Unloaded from the Dunera's holds, we were reunited with them later.
Reporting to the Guardroom, we then would have been directed elsewhere for our arrival to be noted,  allocated a billet and collected our  bedding.  Unlike a hotel the army does not provide already made up beds. At this point we were no longer 'in transit' – that commenced the moment we had left 15 Observation Battery at Stanley – we were now on the muster roll of the Depot. That evening we probably all phoned our parents and told them of our safe arrival back in the UK. Leave was not likely to be granted within our remaining days of service. We would in any event soon be returned home.
Discharge
We next entered the well organized discharge procedure, comparable in ease to our entry at Oswestry. This was no small accomplishment. The Depot's  function along with so many others, was to complete the  discharge  of gunners of whatever rank from units spread over much of the world. It organized the gunners return from his unit wherever located to Woolwich by ship, train or other means in time for the discharge process to be completed, and the gunner discharged on the due date. We were not alone in being discharged as there were, of course, many other National Servicemen from our Release Group 4912 (as shown on my Discharge Book) going through the same process.