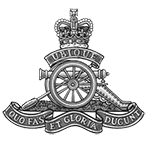 Chapter 13
880 Forward Observation Battery RA (Airborne) Territorial Army
Hendon 1951, Barton Stacey 1952, Brecon 1953
Having been dismissed from Woolwich, Ian Styles and I made our way in FSMO with our kitbags to Hendon on the other side of London. On June 21 1951 we reported there to our Territorial Army (TA) unit, the 880 Forward Observation Battery Royal Artillery (Airborne)1. On arrival the paperwork was completed by the BQMS and we were on their muster roll.
We retained all of our kit and gained two prize possessions; our red berets issued to the elite parachute troops of which we were now part, and our parachutists smocks, a camouflage zip jacket. A forerunner of the Barbour waterproof jacket, these jackets were much in vogue in the UK in the 1980's. All this we had to take home with us. And so burdened I went.
The Territorial Army Service Requirement
The National Service TA required attendance at a number of parades in evenings and at weekends in uniform and an annual 14 day camp for 5 years. I was able to avoid the night and weekend parades because I was working in Lancashire away from home, and attendance was impossible. Even if I had been able to get to Hendon from Surbiton, it was a cross London journey, not difficult but time consuming. Regardless, I did not attend any.
Barton Stacey 1952
I could not avoid the annual camps. For the first in 1952 I had to report to Hendon in uniform and with all my equipment. I recall struggling across London in the tube on a hot summer's day for this. I then met my fellow TA comrades. I only knew Frank Beames, who had been posted earlier. Ian Styles was not there, I gathered later he was working abroad.
The name listed here is as it was listed in my discharge papers handed to me at Stanley Barracks in Hong Kong. In fact checking prior to publishing, I found this site that indicates  880 Forward Observation Battery was reformed as  880 Airborne Locating Battery, RA, TA on May 28, 1951. Thus the Battery would have been so named on my attendance in June, 1951. Consistent with my requirement to report, I will use the name found in my discharge papers ↩