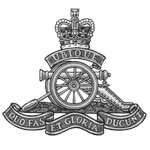 Chapter 11
HMT Dunera, Hong Kong to Southampton
May 6 1951 through June 7 1951
Embark on the HMT Dunera
And so on Sunday May 6 1951 at 930AM we embarked upon the Dunera and at 3 pm  sailed for home. Compared to our departure from Liverpool as the Devonshire made its way down the Mersey on a dark and dirty January night with no ceremony this was different ; pipes and drums from a Scottish regiment bade us farewell and it was a bright  sunny day. Hong Kong lay further and further behind and release beckoned. I left with no feelings of regret. Nor any wish to return.
With the departure of Tony Harris in July and Derek Grosvenor and Dennis Horgan with X Troop in November 1950, and Jock Lyon and Frank Beames leaving on the preceding boat, those with me were the remnants of 98 Squad; Ian Styles, Tim Tate-Smith, Mc Tozer, Tim Timberlake, Alan Rose and Jim Dallaway. We had spent nearly sixteen months together in Hong Kong. And now we were to spend another month together traveling back home on the Dunera.
About HMT Dunera
Owned and operated by the British India Steam Navigation Co, The Dunera was a sister ship to the Dilwara, and had been re-fitted to the higher standards of the current other troopers. Having traveled out in the spartan Devonshire we could make a comparison and enjoy the differences. For one thing she presented a better appearance being painted white with a buff funnel instead of the nondescript and scruffy grey of the Devonshire. She was a little larger at 12,600 tons, a better sea boat as she did not have the Devonshire's roll. She also went a little faster at around 14 knots. We had better accommodation with the mess decks and hammocks having been replaced by standees, bunks, and cafeteria style eating with excellent food. We were on "C" deck aft and the only occupants of a space that held nine. Ventilation was poor so we slept on deck as much as we could though the decks were just as hard as on the Devonshire. To what we had endured on the Devonshire on the way out the conditions for our return seemed quite luxurious. I think we deserved them.