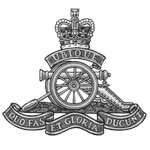 Chapter 10
15 Independent Observation Battery Royal Artillery, Korea
An Epitaph
Major CJW Pollard became CO on 16 March 1951.
15 Independent Observation Battery RA was  reformed in 1951 in Hong Kong as 15 Divisional Locating Battery RA.
On 17 December 1951 it embarked on USS Union at Victoria for Inchon, Korea arriving on 20 December. It then moved to Britannia Transit Camp en route to its operational deployment.
In Korea it was attached to 61 Light Regiment, RA, saw action and suffered casualties among  our old comrades.