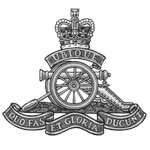 Chapter 4
The Royal Artillery Depot, Woolwich, January 1950.
Before reporting to the Royal Artillery Depot Woolwich, I used the leave received Christmas 1949 from the School of Artillery, Larkhill at home and with David Wetherall, a friend of mine doing his National Service in the army serving in the Royal Engineers and later posted to Kenya. During New Year, I visited some relatives of his in Pembrokeshire, South Wales.
Into my Draft
Having made the most of my time,  I reported in January 1950 to Woolwich. There I found the rest of 98 Squad and many of those from 97 and 96. But we were immediately immersed in our 'draft', a body of gunners of various army trades gathered together who would travel together to make up the new unit when it officially formed in Hong Kong. At Woolwich we served in this draft then traveled out in it on the troop ship.
Life at the Depot
It was quite an experience to be at The Depot Woolwich, home of the Royal Artillery. As might be expected it was exceedingly 'regimental' and steeped in Royal Artillery history. The depot was an enormous establishment with the town surrounding it, sited along the River Thames about 6 miles from central London. Being long established, it comprised many attractive old buildings (from the outside), offices, stores, barrack blocks etc, a series of parade grounds, amid mature trees and grassed areas. It had, of course, a long history. We found this only too evident in our quarters, for it appeared there had been no new building since the Crimean War at least, for our sleeping quarters were rooms above old stables, still in their original state with the stalls and mangers below. Our rooms were primitive and cold, unheated and it was January.
Naturally being the Depot of the Royal Artillery it was run on strict lines. But it seemed that as long as one was properly dressed and walked or marched briskly as if you knew where you were going the attention of the Depot Regimental Sergeant Major was avoided. One was then not classed as 'idle' and assigned an unpalatable fatigue.
All day long there were bugle calls to denote the time and changes in duties of the day, Reveille, Come to the Cookhouse and Lights Out I recall. As ever and inevitably we were required for guard duty.  These were mounted on the enormous square, with a high standard of  turn-out required, inspected by the RSM and Officer of the Day and performed at the main gate.