The Devonshire's Route
The Devonshire's route covered many miles and took over a month. Today one can get to Hong Kong in less than 24 hours. I had always at school been interested in geography so from that, my schoolboy reading of adventures and stories about the sea, and the events of WWII I had a certain awareness of the world beyond the shores of Britain and seeing it for myself was something I was looking forward to. In most respects I was not disappointed.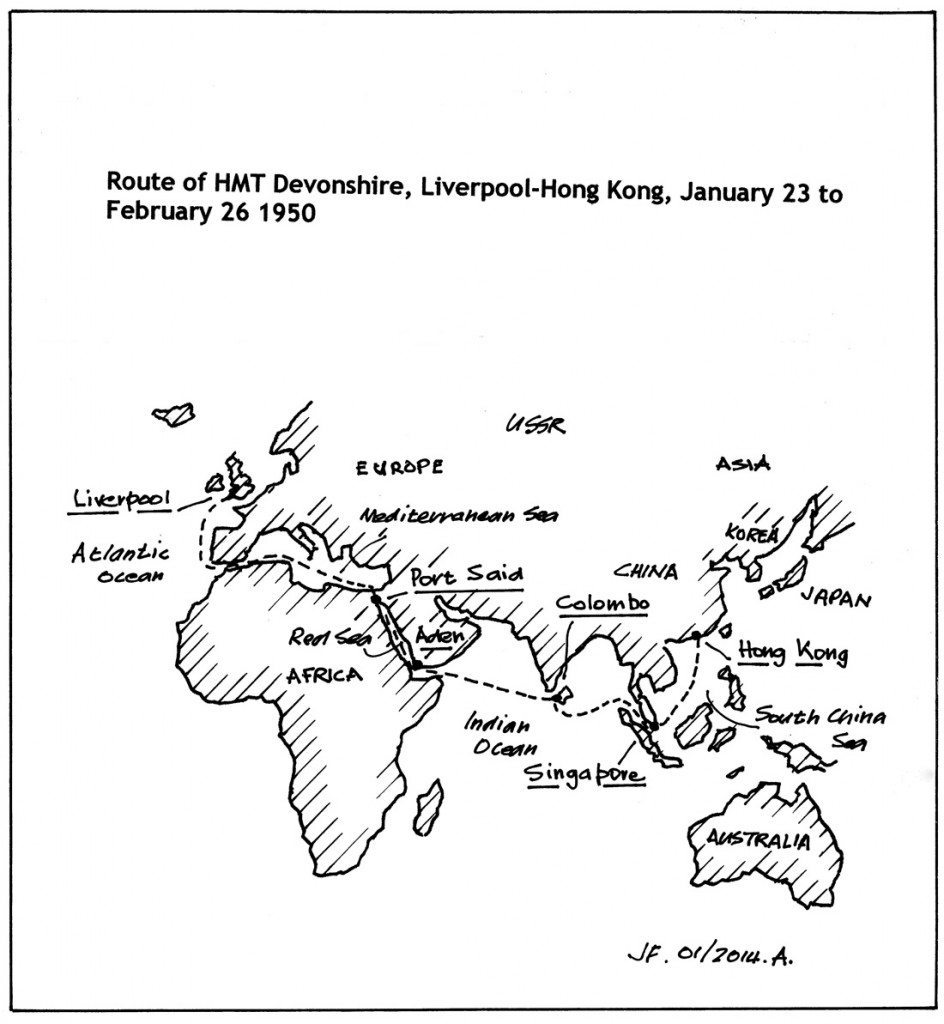 We were to take the old strategic imperial and trade route that led through the Suez Canal to India, Africa, the Orient, Australia and New Zealand. It took us across many seas and oceans. The Irish Sea, the Atlantic, the Bay of Biscay, the Mediterranean, the Red Sea, (where it led to the eastern shores of Africa) the Arabian Sea, across the Bay of Bengal, the Indian Ocean, through the Straits of Malacca and finally out into and across the South China Sea to our destination on the shores of China, the British colony of Hong Kong. A route steeped in the foundings of the British Empire.
The Journey Begins
My first step on this journey was on 23 January 1950, just seven months from my call up, when we were up at 230 am, and with our packs marched in the dark of a winter morning, a white hurricane lamp to the front and red at the rear, down the hill from the Depot the short distance to the railway station where we caught the first train into London. We transferred across to Euston where we traveled by the 830 am train (on which eventually I was to travel regularly) to Liverpool. While at Euston we found from an Ian Allan ABC1 at the bookstall a little about the Devonshire. It was not encouraging. Sailing in it for 13,000 miles or so and for nearly six weeks we came to know its flaws very well.
On arrival in Liverpool Lime Street Station (which again figures in my later life) we were met by Liverpool Corporation  buses which took us through the Mersey Tunnel to Birkenhead where the ship was lying in one of the outer Floats. My first impressions of Liverpool were of the dark and bulky St George's Hall, a bustling Lime Street and a wet and busy town with hordes of green trams. This was my first sight of an industrial northern city.
The trip through the Tunnel in a double-decker bus was a new and novel experience, one among many I was to have I might add, and we found the Devonshire at her moorings in a place called Seacombe. The view of the surrounding waste land and industrial scene on a gloomy January day was exceedingly dreary. Such scenes I had not seen before in suburban Surrey.